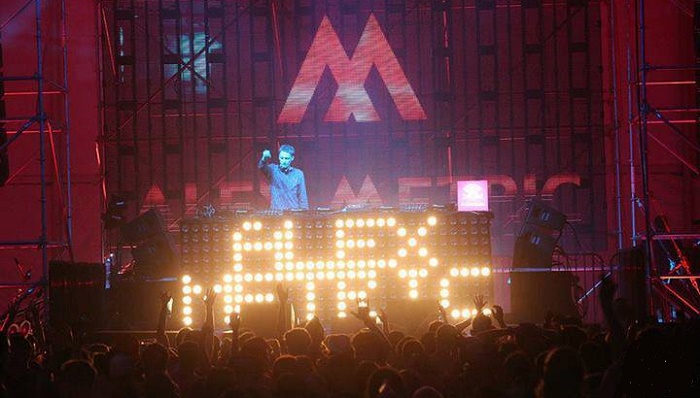 In 2015, many DJs would be content to do a few major tours, put out a handful of singles through independent labels, and then retire. You won't find Alex Metric among those DJs. What sets them apart is Alex's trust in himself. The British producer and DJ started and saved his career by trusting his gut. The first time was when he missed the bus home from school and listened to Fatboy Slim's Better Living Through Chemistry at a record shop. That turned his precocious music mind into the creative lab where he would come up with highly danceable records-later put out through his first label breakthrough on Marine Parade and eventually OWSLA. The second instance was at a gig in Russia. He stopped and asked what kind of music he really enjoyed and realized it wasn't what he was making at the time. So he went back to square one and combined his favorite sounds to come up with the colorful and drum driven style he has today. It's the type to comfortably fill out the basement of a bar or a field at your favorite music festival.
Not only is Metric meticulous about his melodies now, he's also very mindful of the lyrics on his songs. As a former singer in indie bands, Metric is a very able lyricist and singer making him a double threat in the studio. On stage, let's just say he's in high demand. We caught up with the busy London native to talk to him about his first DJ gig, his ability to combine music from different eras, and his favorite remix that he's done.
What was the first record that you bought?
The Simpsons Sing the Blues on cassette.
Was joining a band your first exposure to creating music?
Yeah, singing for bands was my entry point, though as a kid I played piano.
How has being in a band helped you with DJing and/or producing?
I guess it informs my more indie angle on Dance music and helped my song writing.
What was it about music that drew you to be a part of it, from a hobby to a profession?
There's nothing else I can think I would ever want to do apart from music to be honest. It's a part of me.
When did you make the switch to producing Dance music? Did you start producing music like you are today?
I got sick of being in bands and having to rely on other people. I wanted to become self contained, to have the ability to do everything myself. When I started making Dance music it was stylistically and technically very different to what I do now.
What was your first song like?
I can remember writing my first song as a kid on the piano. I must have been 10 or 11 perhaps, maybe younger. I remember wanting a way to write down what the notes were I was playing but not knowing how to read and write music so I had to make up some way of remembering the notes. I wrote them down on a piece of paper and remember feeling pretty proud! It's probably one of my earliest musical memories. That's for sure.
When did you start DJing? Did you teach yourself or learn from someone else?
It's something I picked up from the friends around me I guess, I don't remember having one clear person teaching me. We had decks or CDJs and you'd mess about together and slowly but surely get the hang of it.
What was your first DJ set up like?
Two Technics turntables and a rubbish mixer if I remember correctly!
What was your first DJ gig like?
I remember my first paid DJ gig pretty well. It was in Brixton. I forget the club, but I had planned out my whole set. I played off vinyl and even wrote down on a piece of paper how much I needed to move the pitch to get them in time. I hid the bit of paper under a turntable and kept sneaking a look during the set. It worked though. People seemed to really dig it!
What has been your most challenging remix that you took on, whether it was technically challenging or emotionally draining?
I think my remix for Phoenix - "Lisztomania" was the one I really, really wanted to smash out of the ball park as they are my favorite band. So it was a big challenge to step up to the plate on that. But it was worth it when the band emailed me to say they all loved it. Still to this day I think it's the best remix I've done.
Your sound is an updated retro one that reminds me of what artists in Detroit, NYC, and Miami from the 80s and 90s imagined Dance music to sound like in 2050. Do you ever think that you were born in the wrong time era?
No. Just because I take influence from the past it doesn't mean I am rooted in it. I take those influences and blend them with where my head's at now. I guess I'm old enough to have a good knowledge of the history but youthful enough to know where it's at today and combine the best of both worlds.
How much do you let DJs before and after you at a show dictate what you'll be playing?
It definitely affects the set. It really depends on your role in the evening too: are you the headliner? Are you before a bigger DJ? You have to get up there and do your thing but also do it in the most appropriate way for the club or place you are in. Getting up on the decks and smashing out whatever you want with no regard for the rest of the evening is not cool.
What are 3 characteristics a successful DJ needs to possess?
The ability to function on very little sleep, love for what you do, and no fear of flying!

Last Call

1. What is your favorite movie of all time?Magnolia or a Scorsese classic like Goodfellas. Hard to choose!
2. As a young DJ, who was the one DJ you looked up to?Early on probably Fatboy Slim.
3. As a DJ, what's your biggest pet peeve?Warm-up DJ's playing before you, completely murdering the room and leaving you nowhere to go.
4. What is your current production set up at home?CDJ 2000's and a DJM 900 mixer-same as I use on stage.
5. What's your favorite record of all time?New Order - Blue Monday


Keep up with Alex Metric on his Twitter, Facebook, Instagram, and Youtube.



Bryan Hahn currently lives in the 60's and 2080 at the same time in his head. He's on Twitter (@notupstate).