You'll often find the following question in an interview with a musician: "What would you be doing if you weren't making music?" The answers are usually related to hobbies but you wouldn't expect them to be just as exceptionally good at the backup job as they are at music. Mister Black and We Bang are the exceptions to that expectation. Luckily for their fans, they took on the life of a DJ/producer to make booties shake around the world. And although they've never met in person, we can already tell that you won't want to miss them live together.
Although they grew up in different regions of the states, We Bang and Mister Black both spoke the universal language of Bass music which tore down any potential barriers between the two. We Bang grew up in Lake Havasu City, Arizona while Mister Black calls Minneapolis home. While We Bang was skating, going pro-am and winning tournaments, Mister Black played hockey at a semi pro level for five years--not exactly the backstories for most successful artists today. The overlap between the two begins when both found a love for music. We Bang playing guitar in punk bands "that got no further than your neighbor's garage" and Mister Black playing the drums since 3rd grade, and dabbled with a few other instruments, but his "love was for percussion, heavy metal and breakbeats."
The early interest in music would fully develop for both for different reasons. We Bang took a more cerebral approach by getting into production so that he could have complete control over every detail of the music. It gave him the power to play multiple instruments together at once. He also got into DJing after watching the greats like QBert, Craze, and A-Trak. Although he couldn't even mix the first year, let alone know what it really entailed, he was engrossed with turntablism. This in turn dictated his DJing style until he discovered Drum & Bass. Since then he's learned to fuse the technical with the musical. Dubstep didn't come into the picture until his friend Nick AKA Sluggo, started to produce Dubstep under the name Ultrablack that was faster and had higher energy than what We Bang had heard.
Mister Black arrived at his realization by following the rave route:
"We used to sneak out of the house, take our parents cars (sorry mom if you're reading this), and hit up the warehouse parties until the sun came up. One day it just hit me that I wanted to be on the other side of things. I wanted to create the experience, versus just experiencing it. So I bought some DJ gear and got started."
He started out playing in the clubs and would eventually find his niche by going deeper into the underground scene where breakbeats started to dominate his sets. A few years later, he too caught the dubstep bug. A new genre had a hold on him so strongly that it pushed him to producing music on top of just spinning it at venues.
But before either We Bang or Mister Black would "make it" in the industry, they both did their time behind a desk in a cubicle. We Bang handled home foreclosure and Mister Black was a loan officer. Since We Bang felt "horrible" for taking people's homes and the thought of working in a cubicle again makes Mister Black's "skin crawl," we doubt we'll see them working anywhere other than behind some decks or in a studio.
Since making their respective breaks into the Bass scene, Mister Black and We Bang have put together an impressive number of songs. It's especially impressive when you consider that they've never met in person. They'll officially meet for the first time face to face on February 27th at the Love Groove show in California. Up till now, they've collaborated via phone and the internet. We Bang initially mastered some of Mister Black's music and was quickly a fan of his sound. The opportunity to work remotely with someone was something We Bang had always wanted to do and now it presented itself. The general workflow was one producer would start with 8 measures then upload and let the other guy work 8 measures. We Bang describes it as "pure magic."
The end result is a song that will have you on the edge of your seat until the finale. It's like watching a masterfully crafted house being built by carpenters from different schools of learning. By adding on top of something the other producer laid down, they're able to push each other and the end result is the musical version of an amazing haunted house. They also put out tracks at an alarming rate, allowing them to build up an impressive catalog in a relatively short period of time. When they do perform live together on 2/27, expect faces to melt, as they put it.
We Bang with a group of students for EDAC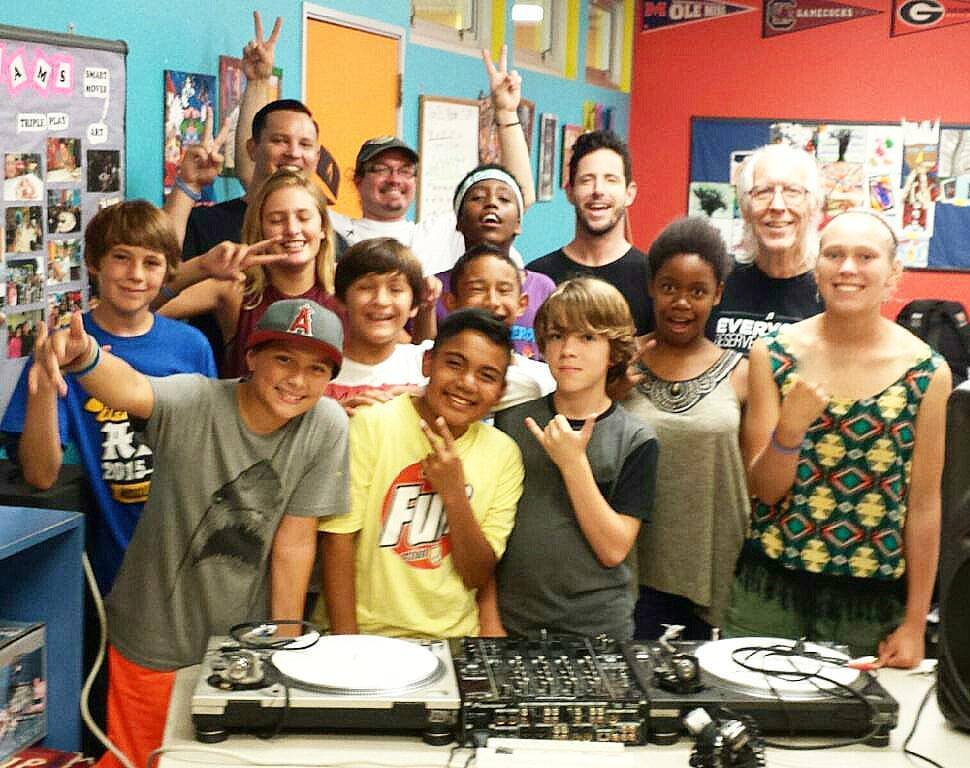 When looking to the future, We Bang is set on building up his non profit organization, Everyone Deserves A Chance, even more. It teaches underprivileged kids and adults how to properly pursue a career in music production, film, and photography. Mister Black gave us some insight as far as the future of music:
<blockquote"I have never seen music evolve as fast as it has in the recent years. To be honest, I was a little worried a few years back when the type of music you listened to was in direct relation to your social status: 'Oh you listen to dubstep? So last year. I like trap now.' Why? Because your buddies do? I'm finally starting to see that attitude dissolve, and people are just appreciating music for the music again. I think that growing popularity of Hybrid Bass Music has helped shift gears again." We agree! And are excited to see the role this dynamic duo will play in the next era of electronic music.

Last Call

1. What is your favorite movie of all time?We Bang: Matrix
Mister Black: Saving Private Ryan
2. As a young DJ, who was the one DJ you looked up to?We Bang: I am gonna go with the Team DMC champion the Skratch Allies (Allies and Skratch Perverts).
Mister Black: DJ Icey, Bad Boy Bill, Baby Anne, The Crystal Method, Massive Attack
3. As a DJ, what's your biggest pet peeve?We Bang: Faking it.
Mister Black: Screaming on the mic to mask shitty mixing.
4. What is your current set up at home?DJ: Pioneer XDJ – RX
Production, Mixdown and Mastering: Ableton, Sequoia, Slate Digital Plugins, Massive, Spire and Serum. M-Audio BX8 Monitors and iMac computer.
5. What's your favorite record of all time?We Bang: How you gonna do that to me? Konflict - "Messiah."
Mister Black: Pink Floyd – Dark Side of the Moon


Keep up with Mister Black on his Facebook, Instagram, Youtube, website, and Twitter. Keep up with We Bang on his Facebook, Youtube, and Twitter